BALI, INDONESIA

Bali is undoubtedly one of the most enchanting place that honeymooners can desire for. Lush greenery, beautiful miles stretched sandy beaches, roaring rivers, crystal clear lakes, tropical forests full of exotic wildlife. There are also picturesque active towering volcanoes over 3000 meters high. A glittering sea, royal treatment by the welcoming and warm people makes wonderful memories for honeymooning couple. Indulge in luxurious tropical plants, coconut palms, birds of paradise.

[ More ]


About Indonesia

The Republic of Indonesia is located in the Malay Archipelago, between the Indian and Pacific Oceans. The country borders Malaysia on the island of Borneo (Indonesian: Kalimantan), Papua New Guinea on the island of New Guinea and East Timor on the island of Timor.

Indonesia is the largest Muslim nation in the world and currently ranks fourth in terms of population. The country's capital city is Jakarta. Other major Indonesian cities include Surabaya, Bandung, Medan, Palembang, and Semarang.

Indonesia has 33 provinces, 2 of which are special territories and 1 a capital city territory. These special territories (daerah istimewa) are Aceh (or Nanggroe Aceh Darussalam) and Yogyakarta.

The provinces are subdivided in districts, which are divided by sub-districts and municipalities. The provinces are: Bali, Bangka-Belitung, Banten, Bengkulu, Central Java, Central Kalimantan, Central Sulawesi, East Java, East Kalimantan, East Nusa Tenggara, South Sumatra, Gorontalo, Jambi, Lampung, Maluku, North Maluku, North Sulawesi, North Sumatra, Papua (Irian Jaya), Riau, Riau Kepulauan, South East Sulawesi, South Kalimantan, South Sulawesi, West Irian Jaya, West Java, West Kalimantan, West Nusa Tenggara, and West Sulawesi, West Sumatra.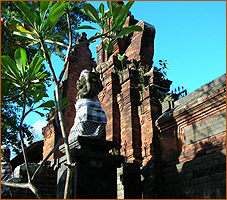 East Timor was a province of Indonesia from its annexation in 1976 until Indonesia relinquished sovereignty in 1999. Following a period of transitional administration by the UN, it became an independent state in 2002.

Indonesia has 18,108 islands, 6,000 of which are inhabited, while the largest populated islands are Java, Sumatra, Borneo (shared with Malaysia and Brunei), New Guinea (shared with Papua New Guinea) and Sulawesi.